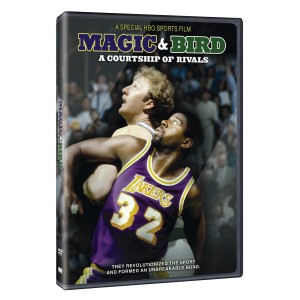 You simply can't discuss the greatest athletes of all time without mentioning the competition that helped make them great…their biggest rivals. Every great athlete has had one, or more. The men and women who walked beside them down fairways on Sunday afternoons, traded paint on dusty speedways, served and volleyed across a net, stood toe-to-toe on the canvas, or posted up elbow to elbow on the hardwood. They brought out the best in each other while enhancing their sports, and their accomplishments have stood the test of time. There are many "team" rivalries, but these duos made it personal, competing directly against each other on the largest stage and at the highest level of their sport.
7. Arnold Palmer and Jack Nicklaus – Golf  Coming into the 1960 U.S. Open, Arnold Palmer had more than earned his nickname "The King," winning twelve PGA tournaments in the previous two years, including his second Masters green jacket just a few weeks earlier. Although Palmer emerged victorious, a young amateur named Jack Nicklaus gave him a run for his prize money, finishing second to Palmer by a mere two strokes. More than 50 years later, Nicklaus' 2-under par 282 remains the lowest score ever by an amateur in the U.S. Open.
At the 1962 U.S. Open, Nicklaus, who turned pro the previous year, defeated Palmer by two to win his first of his record 18 majors, and a thirty-year rivalry was born.
For the next three decades, Palmer and Nicklaus teed off in hundreds of the same tournaments, winning 135 PGA events and 25 major championships between them, finishing 1-2 in majors five times. Along the way, they helped popularize a game they loved, and they continue to enjoy vastly successful careers in course design and other businesses.
6. Muhammad Ali and Joe Frazier – Boxing  These two heavyweights may have met only three times in the ring, but they made up for in quality and sheer media hype. Both fighters had won Olympic Gold: Ali in 1960 and Frazier in 1964. Ali first claimed the heavyweight crown in 1964, but his title was stripped in 1967 when he refused induction into the armed forces.
Frazier gained the vacant title a few months later and retained it, setting the stage for their 1971 bout, dubbed "The Fight of the Century." Frazier outlasted Ali for a 15-round victory via unanimous decision, handing Ali his first professional loss.
A rematch followed on January 28, 1974, shortly after Frazier lost the title to George Foreman. When Ali received a favorable unanimous decision over Frazier, he won the right to fight Foreman, and Ali's 1974 defeat of the champ set the stage for the third and final meeting with Frazier.
Known as "The Thrilla in Manila," the fight took place on October 1, 1975, before thousands of fans and a worldwide television audience. Despite high humidity and a ringside temperature approaching 120 degrees, the fight lasted through the 14th round, when Frazier's trainer wouldn't allow him to answer the bell, giving Ali the victory.
In 44 bruising and bloody rounds, neither man was able to knock the other one out.
5. Andre Agassi and Pete Sampras –Tennis  From 1989-2002, Pete Sampras and Andre Agassi faced each other 34 times in head-to-head tennis matches, with Sampras victorious in 20. Playing against predominately the same competition, their career winning percentages are both above 75%, and within 1.5% points of each other.
They squared off for the first time in the initial round of the 1989 Rome Masters. Agassi, who'd turned pro two years before Sampras, dispatched his opponent 6-2, 6-1, and went on to finish as the tournament runner up. The next year, however, Sampras upped the ante, defeating Agassi in the finals of the 1990 U.S. Open.
Over the next dozen years, they met in 15 other tournament finals, including 5 Grand Slam events; with Sampras bringing home the trophy nine times. Agassi holds the edge in one category, however. He won each of the four Grand Slam titles at least once. Sampras never won the French Open.
Davis Cup teammates in 1992 and 1995, Sampras and Agassi have grown friendlier in their post-retirement years (2002 and 2006, respectively), but the old competitive fire still burns when they face each other across the net in charity events or on the ATP Champions Series tour.
4. Richard Petty and David Pearson – NASCAR  Ask long-time NASCAR fans to name the greatest stock car driver in history, and the two names you'll hear passionately repeated over and over will be Richard Petty and David Pearson.
Petty began his pro career in 1958, Pearson in 1960. Both earned Grand National Series Rookie of the Year honors. In twenty-seven seasons of head-to-head competition, Pearson and Petty ran in an astounding 550 races together. From 1963 through 1977, they finished 1-2 in races an incredible 63 times, with Pearson holding a slight edge with 33 wins.
Petty's 200 wins in 1,184 starts is a record, but Pearson was victorious in 105 of his 574 starts (he rarely raced an entire season), giving him a slightly greater winning percentage.
The 1976 Daytona 500—one of the first NASCAR races to be broadcast nationally—is one of their best-known meetings. As usual, the two were at the head of the pack, a full lap ahead of the other cars. But in the last quarter mile, the two bumped, hit the wall, and spun out into the infield with the finish line in sight. Petty's engine died, but Pearson kept revving, and slowly limped across the grass to cross the finish line for his only Daytona victory.
3. Magic Johnson and Larry Bird – Basketball  Magic Johnson and Larry Bird got a head start on their classic NBA rivalry. In the 1979 NCAA Championships, Bird's 33-0 Indiana State squad faced off against Johnson's Michigan State Spartans. Magic and the Spartans prevailed 75-64, ending Indiana State's bid for a rare perfect season.
Both entered the NBA the next season, and picked up right where they had left off where it meant the most. Although Bird captured Rookie of the Year honors in 1980, Johnson helped lead the Los Angeles Lakers to the NBA Championship. The Bird-led Boston Celtics captured the title in 1981, and throughout that decade, one of the two made a finals appearance each year, with the Lakers winning five titles and the Celtics three. In 1984, 1985 and 1987, the Celtics and Lakers played for the title. Both were named league MVP three times.
Like Bill Russell and Wilt Chamberlain before them, the two helped rejuvenate the NBA, which had experienced dwindling attendance and TV audiences in the late 1970s. The two Hall-of-Famers earned Olympic gold as teammates on the legendary 1992 Olympic Dream Team, and remain good friends today. That's ironic, because their classic rivalry continues on without them; both as the subject of a recent HBO special (Magic & Bird: A Courtship of Rivals) AND as a new off-Broadway play, Magic/Bird.
2. Martina Navratilova and Chris Evert – Tennis  There were certainly other talented women playing professional tennis in the decades that these two legends were going head to head, but it didn't always seem like it. From 1973 to 1988, Martina Navratilova and Chris Evert played 80 matches against each other, and in 61 of those over a 12-year period (1975-1987), all but six came in a tournament final. In those matches, Navratilova holds the edge, 43-37.
As with many rivals, their playing styles and personalities differed greatly. Evert was consistent and methodical, with a calm demeanor that masked a will of iron. Navratilova was powerful, aggressive and took risks. Evert, a right-hander, was better on clay, and Navratilova, a lefty, excelled on grass.
Evert turned pro prior to Navratilova, and was victorious in 21 of their first 25 matches. From 1974-1978, she was the #1 ranked player in the world, and dominated not just her future rival, but also all of women's tennis. But in the early 1980s, Navratilova re-worked her training regimen, and slowly began to gain the upper hand.
Their pairing in the 1985 French Open final is one of their most memorable. Down early, Navratilova fought back to tie Evert 5-5 before losing in three sets,6-3, 6-7(4), 7-5.
Navratilova owns a better lifetime record of 1,442-219, for an 87% winning percentage. Evert's 1,309-145 record works out to a winning percentage of just over 90%. Both won 18 Grand Slam titles.
1. Wilt Chamberlain and Bill Russell – Basketball  When Wilt Chamberlain joined the NBA in 1960, Bill Russell was already a dominant force in the league. Both had starred in college—Chamberlain at Kansas and Russell at the USF—and both enjoyed a detour on their way to the pros. Russell won a gold medal at the 1956 Olympic games, and Chamberlain left Kansas after his junior year to play a season with the Harlem Globetrotters.
But it was in the NBA that the two reached their full potential. Because they were most often in the same conference, the two played against each other an astounding 142 times, and these "summit meetings" helped increase the popularity of the NBA, and brought out the best in each other.
Who was the better player? It depends on your criteria. Chamberlain's lifetime scoring average was nearly twice that of Russell's (30.1 to 15.1), and they both averaged more than 22 rebounds a game. Russell was league MVP five times, and Wilt was honored four times. But Russell's Celtics won 11 NBA championships, and Chamberlain won two. Although their teams played often in the Eastern Conference Championships, they met in the NBA Finals twice, each earning one title.
* This article first appeared in a slightly different form in 50 Greatest Athletes of All Time (2013, Beckett Media)