Joe Penner and Betty Grable in a candid shot from the set of RKO's 1939 race track comedy
The Day the Bookies Wept
. Grable played Ina Firpo, the girlfriend of Penner's character Ernie Ambrose, a cab driver who trained pigeons as a hobby. Check out four scenes from
Bookies
, as well as scenes from Penner's other pictures, on the new
video clips page
.
When the Baker's Broadcast premiered on NBC Radio in October of 1934, the show's band leader was a 28 year old former Eagle Scout and Rutgers University graduate named Oswald George Nelson. The band's vocalist was the lovely young singer and actress Peggy Lou Snyder, who performed under the name "Harriet Hilliard" (Her father's middle name was Hilliard).
When Joe Penner left the airwaves in mid-1935, the Nelsons remained with the Baker's Broadcast, accompanying the new host, famed "believe it or not" man Robert Ripley. The following October, Ozzie and Harriet were married. Two sons (David Oswald in 1936 and Eric Hilliard in 1940) soon added to their adventures, and the rest, as they say, is television history.
Here's Joe Penner posing with a decidedly different water creature...a Marlin Swordfish caught 71 years ago this month (August 2008) off Santa Catalina Island. It's nice to see that Joe was able to take the occasional day off during that busy first year of his RKO contract.
The glitz and glamor of Hollywood are not evident in this production still from RKO's 1938 production of
I'm From the City
. This part of the movie business is just plain hard work for everyone involved. And don't you get a sense that it's a tad warm on the set?
That's Willie Best (as the train porter) and co-star Lorraine Krueger standing on either side of Joe Penner as they wait for director Ben Holmes (mostly obscured to the left of the camera) to call ACTION! (Click to enlarge)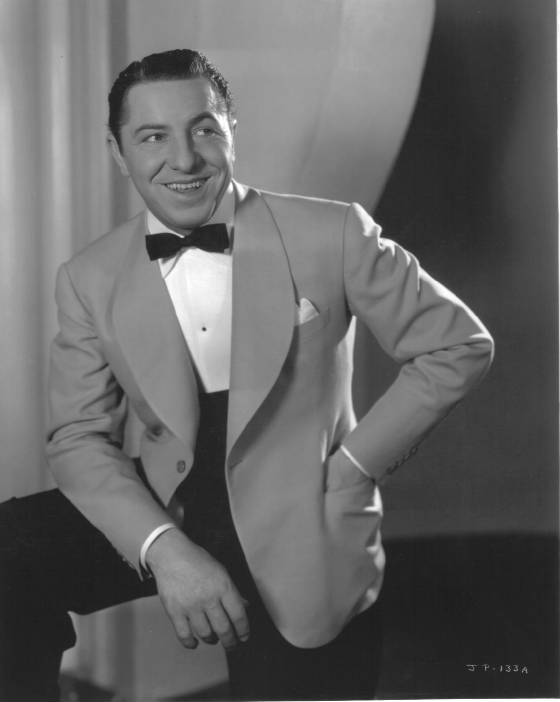 A dashing and dapper Joe Penner poses for RKO photographers following the completion of his roles in New Faces of 1937 and The Life of the Party.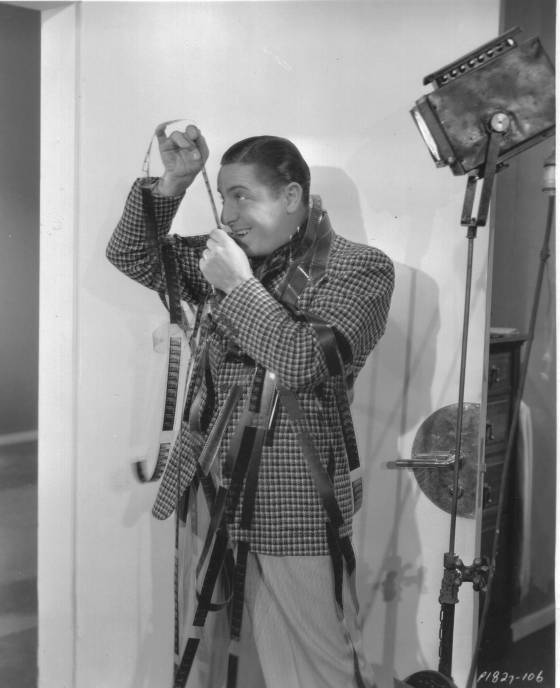 Penner helps the Paramount Studios editing staff locate the best footage in this promotional shot sent out in advance of the release of Collegiate (1936).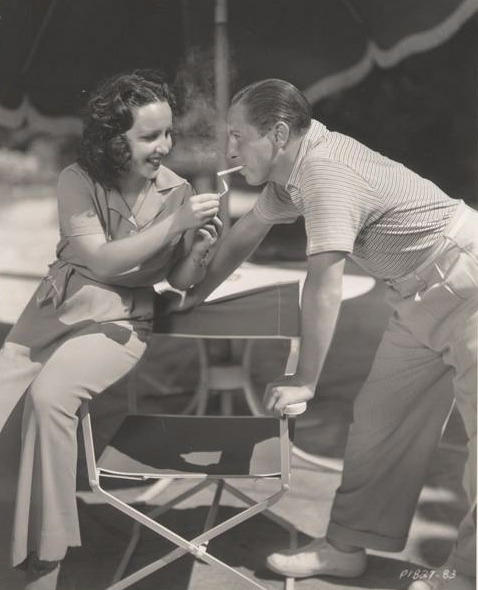 In a true sign of 1930s affection, Eleanor Penner lights a cigarette for her husband Joe in the backyard of their rented home in Hollywood. Penner had just returned west to work on his second feature film, Paramount's Collegiate.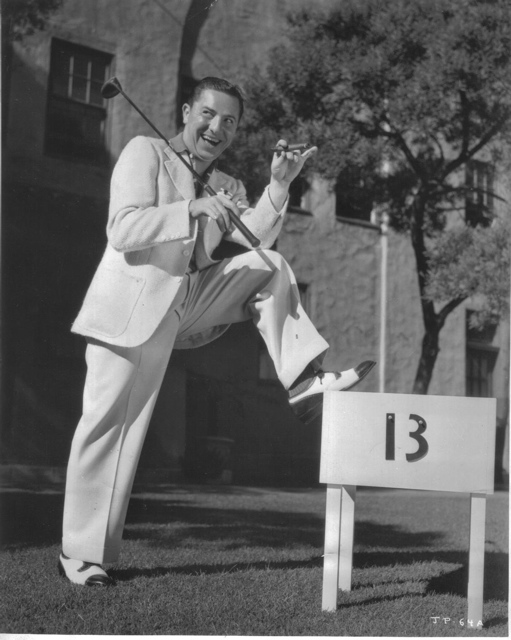 Here's a promotional shot of Penner on a generic -- and quite probably fictitious -- tee box. Pretty funny stuff, that number 13. The accompanying blurb for this one talked about his upcoming picture Convention in Cuba, which was put on hold when he was cast in New Faces of 1937.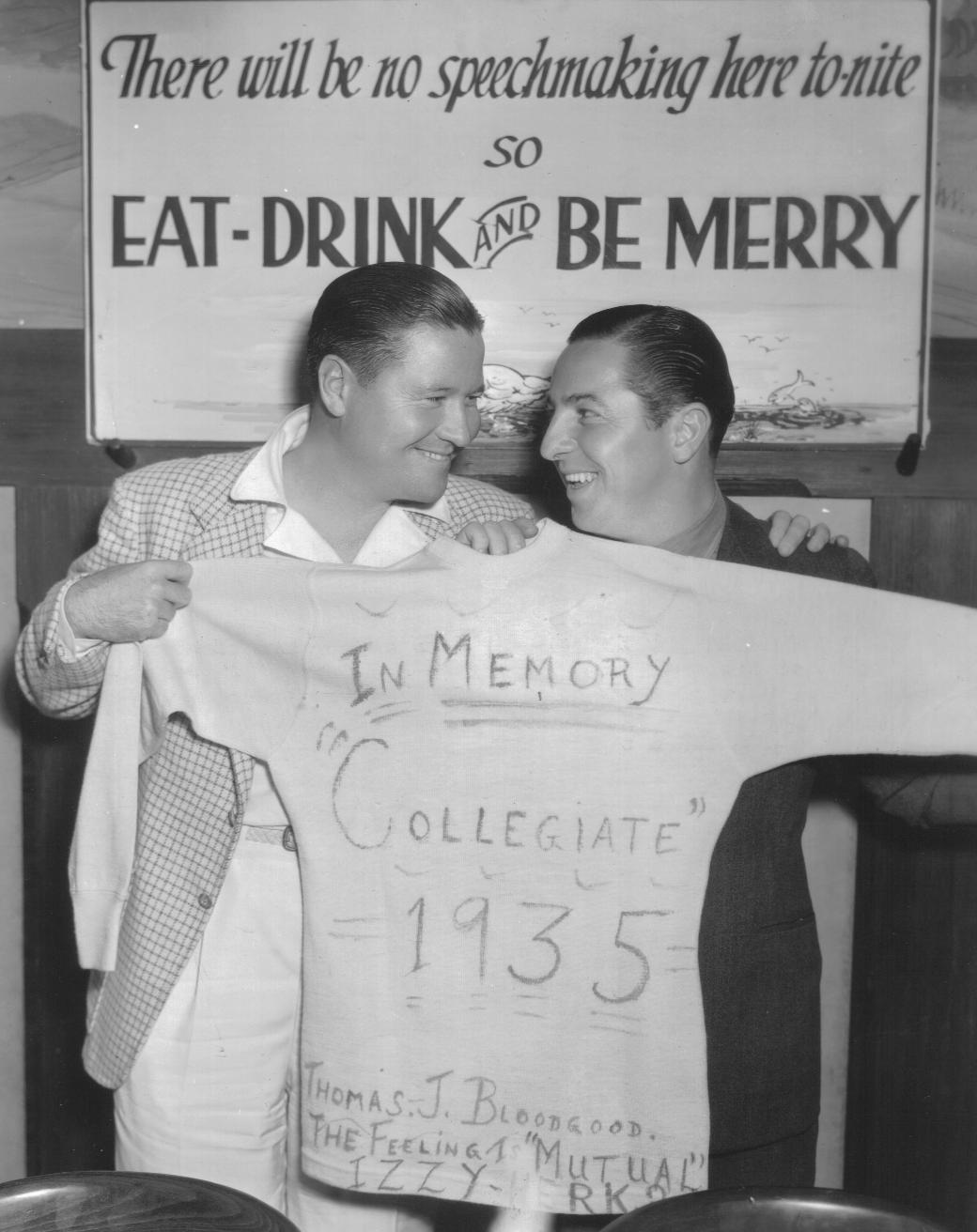 A photo from late 1935 of Jack Oakie and Penner taken at the Collegiate cast party (there's another on the film's page), a bash which Penner hosted. Souvenir Cast Member garments have certainly come a long way in 70 years.