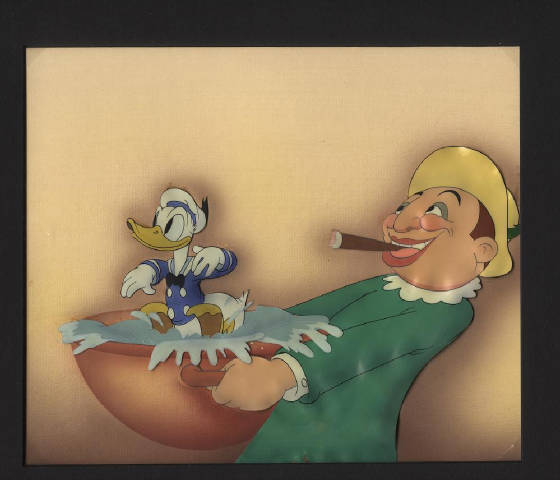 Joe Penner, as animated in the Disney cartoon, Mother Goose Goes Hollywood (1938). In the sequence represented by this single cel "Couvosier" type set up, Penner is attempting to "sell" Donald Duck to Old King Cole."

The bit also includes caricatures of Hugh Herbert as Old King Cole, the Marx Brothers as his Fiddlers Three, and Ned "Laughing Boy" Sparks (who appeared with Penner in Collegiate) as the court jester. The segment starts around 1:15 in (after Katherine Hepburn as Little Bo Peep).

This short is currently available on the limited edition Walt Disney Treasures "More Silly Symphonies: Volume Two" DVD set, hosted by Leonard Maltin.
This cartoon is not currently available for viewing online.
"My Green Fedora" (Warner Bros, 1935)
In this early Warner Bros. Merry Melodies cartoon, a young rabbit is stuck babysitting his infant brother, so he imitates Joe Penner's vaudeville schtick: bouncing his hat on his head while dancing and singing with cigar in hand. The baby imitates Penner's laugh during his brother's performance, and again at the end of the short.

Although no footage of a Penner stage performance exists (to the best of my knowledge), his "Where the Berry Blossoms Bloom" number in New Faces of 1937 is a good example of this routine.
To view this cartoon (as long as the YouTube posting lasts),
click HERE
.
"Toy Town Hall" (Warner Bros, 1936)

In this Warner Bros. offering from 1936, a young toddler has to go to bed without listening to his favorite radio programs. When alone in his room, his toys come to life and bring him a radio program, hosted by a caricature of Fred Allen (who in real life hosted the program Town Hall Tonight) on an "ABC" microphone. Among the stars featured are Bing Crosby, Eddie Cantor, Rudy Vallee and (the whole reason I'm writing this) Joe Penner.
A caricature of Penner rides by quickly (on a wooden duck...natch) at the 2:00 mark, but the real Penner bit starts at 5:02. Interestingly, the sequence appears to use much of the exact animation drawings and audio track from Warner's My Green Fedora (1935, see above) of the young bunny doing Penner's bouncing hat and cigar routine while he sings, "My Green Fedora." This time, though, the character is converted into a stuffed and spotted bunny. Both the toy and the toddler offer up versions of Joe's unique laugh.
This cartoon is not currently available for viewing online.

"The Woods Are Full of Cuckoos" (Warner Bros, 1937)

Another celebrity caricature-fest from Warner Bros. A broadcast from forest radio station KUKU provides the opportunity to hear from several of nature's finest entertainers. Emcees include take-offs on Alexander Woolcott, Ben Bernie and Walter Winchell, and there are too many celebrity turns to mention...many more than in Toy Town Hall.
Joe Penner -- in the guise of Joe Penguin -- shows up at the 4:42 mark. The bit is yet another recycled use of the animation drawings (albiet a shorter sequence) that were produced for My Green Fedora (discussed above) using a different voice track.
"Porky's Duck Hunt" (Warner Bros, 1937)
A Penner caricature puts in a brief cameo appearance (at the 6:18 mark) in this 1937 Porky Pig cartoon, offering (you guessed it) a duck to the intrepid hunter. This short is credited as the first appearance of Daffy Duck.
Although Penner had largely stopped doing his duck gags on the radio two years before (in 1935, when he left the "Baker's Broadcast"), his "wanna buy a duck" tagline stuck with the public. Coincidentally, Warner Bros. voice artist Mel Blanc earned his first national radio experience providing the "voice" of Penner's duck "Goo Goo" on the Penner program.
This cartoon is not currently available for viewing online.

"See the World" (Terrytoons, 1934)
Here's a very early animated Penner reference, even though Joe does not appear in caricature form. In this Terrytoons offering, a sailor uses some Penner patter (and a prop) on a island girl, only to have her answer back with a version of another classic Penner line.
This short was created in 1934, the year Penner was voted the Top Radio Personality in a "Radio Digest" contest.