As 1936 drew to a close, the "new" year was clearly already underway for Joe Penner. He and his wife Eleanor were building a new home in the heart of movie town, and he was headlining a new radio show (
The Park Avenue Penners
) for a new sponsor (Cocomalt).
But perhaps most importantly, he'd been signed to a deal for three pictures a year by the new management team at RKO, who were adding new acts and actors – many from the world of network radio – at a steady clip, if only to signal to the rest of the industry that it was no longer business as usual at 780 Gower. The studio had courted him aggressively, but it took several months for them to find just the "right" project for him.
That fall, a press release announced, "Joe's first picture under his RKO Radio contract will be
Convention in Cuba
." Shortly, another release stated, "the comedian's first picture under his RKO Radio contract will be the musical
Roaming Around
, which will have an all star cast." Neither picture was made with or without Penner, at least under those titles.
Penner would finally make his RKO debut in an ensemble film alongside several other performers, some of whom were also making their first screen appearance for Radio Keith Orpheum, or, in the case of co-stars Milton Berle, Ann Miller and Lorraine Krueger, their first feature film appearance period.
That film was
New Faces of 1937
.
Even in an era of big ballyhoo, the film was heavily hyped. The concept had migrated from Leonard Sillman's "New Faces" Broadway revues of 1934 and 1936, and several four-color promotional pieces were created over a period of months, heralding the picture as "new, New, NEW!" This, from one titled "Santa Claus is Coming in the Good Old Summertime."
"New Faces of 1937 is the first of a series of annual musical comedy extravaganzas to be produced by RKO RADIO under this title. They will bring to the screen new and unusual talent, ferreted out by RKO scouts from all fields of entertainment all over the world. In New Faces of 1937, audiences will encounter any number of the most delightful surprises."
Make no mistake about it,
New Faces
is not a good movie. It is disjointed, overlong, and -- perhaps the ultimate sin for a musical comedy -- only occasionally funny. But don't take my word for it. Here's the lead from
Daily Variety's
July 7, 1937 review:
New Faces of 1937 is not a good picture."
There are often several contributing factors when a film doesn't come together, and with New Faces, that was the case. After signing several acts, RKO shoehorned them into the film, without regard to its growing length. There were on-going changes to the script. And producer Edward Small, who originally brought the property to RKO, cut his ties with the studio before it hit the screen. In the end, it was too much of a not-so-good thing. Daily Variety suggested that the film would have screened better sans twenty minutes of footage. Frank Nugent of The New York Times saw their twenty, and upped the ante to forty. I quote:
"New Faces does sag, possibly by the very weight of the material the producers have thrown into it…there are backstage rehearsals and rehearsals of rehearsals and production numbers that the producer wants to throw out and spectacles that he should have thrown out but didn't. There are tap dancers and tenors and blues singers and choruses, and a Shakespearean interlude, a recitation of "Boots" and a chap who gives an imitation of a woman taking a bath."
Time Magazine, after a brief summary of the plot, also weighed in on the matter in a review dated July 12:
"The Saturday Evening Post story by George Bradshaw on which New Faces is based contained a first-rate comedy idea. Its hero was a shoestring theatrical impresario whose method consisted of selling a show to several different backers, then making sure that the show was so bad it closed immediately. The method worked perfectly until the unforeseen accident of a hit put the impresario in the miserable position of having to pay 85% of its profits to all its various angels simultaneously. As rewritten by a battery of Hollywood scenarists, this idea is somehow boiled down to the skeleton for a succession of vaudeville turns, most of which are as familiar as the players who take part in them."
Many film and stage fans of the latter twentieth century will recognize the basic plot line, as it was eventually resurrected in Mel Brooks' The Producers, both on screen starring Zero Mostel and Gene Wilder, and on the legit musical stage with Matthew Broderick and Nathan Lane.

But back to 1937.

Where did top-billed Joe Penner fit into all of this? With a large cast and a script constantly in flux, his involvement kept changing. For example, in the "final" draft of part one of the script, dated 3/20/37, the film opens with Penner (as Seymore Semore, an aspiring actor) and Lorraine Krueger (as Suzy, his long-suffering girlfriend) walking down the street.

Penner holds a leash (the script calls for this to mirror William Powell, Myrna Loy walking their dog Asta in The Thin Man films) and he occasionally stops when the leash tightens. At the end of the scene, it is revealed that they have been walking Penner's duck, Goo-Goo.

Revised script pages were added on 3/23, 3/27, 4/19, 4/29 and 5/3, but the scene remained throughout. When the film opened two months later, however, it was gone. Of course, Penner had already distanced himself from the duck gags of the past, and they were completely absent from his new radio program, so he may have even requested that the scene be altered. But no matter the reason, removing him from the film's first minutes reduces his impact on the story, and weakens his appearances later on.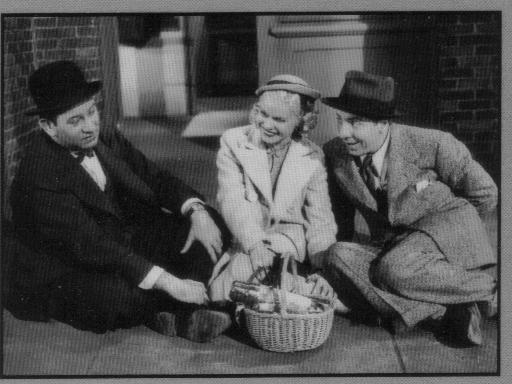 Parkyakarkus, Lorraine Krueger and Penner
Throughout the movie, Penner is mostly called upon to add moments of comic relief between various vaudeville routines and big company song & dance numbers, and to help tie together the razor thin plotlines. He has a few scenes with Krueger, but his primary comic foil is Parkyakarkas, and – since most of the schtick was written around Parky's annihilation of the English language – he actually ends up being more straight man than first banana.

He does sing "When the Berry Blossoms Bloom," a typical Penner specialty co-written with long-time collaborator Hal Raynor. This scene may be the closest we have to a filmed record of his stage act, which featured plenty of funny business with his cigar and his hat bobbing up and down on the back of his head. Finally given something solo to do, Penner pulls out all the stops.
Speaking of music, Sammy Fain and Lew Brown penned most songs in the film, which included "Our Penthouse on Third Avenue," "Love is Never Out of Season," "It Goes to Your Feet," and "If I Didn't Have You."

Charles Henderson wrote the title tune and created the vocal arrangement for "The Widow in Lace." Ben Pollack and Harry James contributed a specialty number, "Peckin'", which features additional lyrics by Edward Cherkose.
It speaks volumes that the best-reviewed scene in the film (where Berle meets with a stockbroker played by the inimitable Richard Lane) was lifted intact from Dave Friedman's (Eddie Cantor's early collaborator) Broadway revue "Life Begins at 8:40," making the sketch three years old when the film opened.

So what became of the many "new faces" the RKO team cast in the film? The most recognized today would be Milton Berle, followed by dancer Ann Miller and Harriet Hilliard (Nelson) and, to a lesser extent, Jerome Cowan and Parkyakarkas (nee Harry Einstein or Harry "Parke").

"Parky" – whose only previous film work was beside Eddie Cantor in Strike Me Pink (1936) -- appeared with Penner in the next picture for both performers, RKO's The Life of the Party. On November 24, 1958, Parke died rather famously of a sudden heart attack, moments after completing his portion of a Friar's Club roast "honoring" Lucille Ball and Desi Arnaz. Seated next to him -- yet unable to revive him as he collapsed -- was New Faces co-star Milton Berle.
Milton Berle, Parkyakarkus and Penner play cards on the train
William Brady (as Jimmy Thompson, the romantic lead opposite Hilliard), made only three more films (all in 1940), before returning full-time to his vocal work in nightclubs. Lorraine Krueger appeared in more than twenty other films through 1946 (including I'm From the City with Penner) before becoming a real estate agent, a career that lasted more than six decades. Brady and Krueger passed away less than three months apart in 2003.

Thelma Leeds, (Elaine Dorsett), gave up her career when she married Harry Parke, whom she met on New Faces. They had three sons, Bob, Clifford and Albert. Bob may be better known as either Officer Judy from the Smothers Brothers TV show, as Super Dave Osborne from his HBO specials, or – more recently – as Marty Funkhouser on Curb Your Enthusiasm. He is also a comedy writer. Son Albert is better known as filmmaker and comedian Albert Brooks. It was he who coaxed his mother out of retirement to appear in his films Real Life (1979) and Modern Life (1981), the latter as his mother. She died in 2006.

The New Faces concept didn't quite die, but nor did it become an annual event. In fact, the format re-appeared only one other time under that title, following the early 1950s success of (once again) a stage version. New Faces of 1952 featured Ronny Graham, Eartha Kitt, Robert Clary (Corporal LeBeau from Hogan's Heroes), Paul Lynde, Alice Ghostly, and many others.

Although New Faces of 1937 is far from a great film, it remains a good historical document, since it features rare film appearances of several vaudeville, burlesque and nightclub acts of the day, including Hite, Lowe and Stanley, The Rio Brothers, the Three Chocolateers, the Four Playboys and the Loria Brothers.

It would take a couple more films before RKO would find a suitable project for Joe Penner. But that's another story for another page.

- Craig Hodgkins